Azani Active Nutrition
Energy Gel
791 Sold
Be Unstoppable

Unleash your peak potential and perform at your best. With our unique triple action formula powered by natural honey and MCT Oil, instantly boost your energy without a crash. 
Unlike other energy gels, it offers a sustained and steady release of energy. Additionally, the rich amino blend actively helps your muscles recover, reduces fatigue & increases endurance, throughout.
791 people have purchased this item
Free Shipping
Cash On Delivery
Authenticity Guaranteed
Why Is It Good For You
NATURAL ENERGY BOOST: Unique blend of natural honey & powerful MCT Oil for a clean energy boost
NO ENERGY CRASH: Sustained energy release without a crash
INSTANT ENERGY: Fast acting, triple action formula for maximum endurance & performance
CONVENIENT & EASY TO CONSUME: Easy to consume gel that doesn't require water
RICH AMINO BLEND: Increases endurance, muscle recovery & reduces fatigue
CAFFEINE FREE: Doesn't cause dependency issues
EASILY DIGESTIBLE: Doesn't stress your stomach & digests quickly
Non GMO
Gluten Free
No Banned Substances
Made in FDA Certified Facility
Easily Digestible
Caffeine Free
100% Vegetarian
Proudly Made in India
112.5 Calories Energy
Formulated by Sports Scientists & Nutritionists
Designed for Athletes
What Makes This Product Special
The combination of Maltodextin + Sucrose instantly powers you up. It is easily digested for a quick energy boost.
The natural honey base starts to get broken down for a steady release of energy that sustains the initial energy boost. It slowly tapers off, and doesn't let you crash.
MCT oil starts to get broken down for a further energy boost. Unlike other fats, this is easily digestible and rapidly absorbed by the body, while being incredibly healthy.
Our Top Notch Ingredients for the Best Results
Each Energy Gel sachet is made with pure ingredients of the highest quality. It's normal to be skeptical and that's why every ingredient is backed by science.
Made in an FDA approved facility
Formulated by scientists & nutritionists
Backed by scientific research
Key Ingredients
Natural Honey Base
Honey is a natural source of a combination of simple sugars that makes it lower on the glycemic index than Maltodextrin. It enables a more steady, sustained release of energy, preventing crashes.
MCT Oil
MCT oil is a healthy fat that is extracted from coconut oil. It is rapidly and easily absorbed by the body. It is great in improving metabolism and boosts endurance during any workout. MCT oil is also very good for heart health.
L-Taurine
Taurine is an essential amino acid for cardiovascular function, development & function of skeletal muscle, the retina, the central nervous system, & functions as an antioxidant. Taurine is necessary for normal skeletal muscle functioning & helps in recovery.
L-Ornithine
Ornithine is an amino acid that plays a role in the urea cycle that reduces ammonia build up. It reduces fatigue & increases the efficiency of energy consumption.
L-Leucine
Leucine is an essential branched chain amino acid (BCAA) used in the biosynthesis of proteins. It can slow down muscle degradation & increases endurance.
Citrulline Malate
Citrulline is another amino acid that plays a role in the urea cycle that reduces ammonia build up. It can reduce fatigue & improve performance.
Magnesium Oxide
Magnesium prevents leg cramps, regulates blood pressure, and helps in reducing muscle & bone inflammation. It also improves digestion and makes the gel extremely easy on the stomach.
Maltodextrin
It is a complex carbohydrate that is easily digested and absorbed as rapidly as glucose, that gives you an instant boost in energy. It is light on your stomach and doesn't stress your GI tract.
Sucrose
It is a simple carbohydrate that is easily digested and absorbed by the body for a quick energy boost.
Each Super Greens Tablet Contains
Vitamin B12 =
4 glasses milk
Vitamin B6 =
7 cups Lima Beans
Vitamin B5 =
15 cups Broccoli
Did you know?
The WHO recommends eating 400 grams of fruits and vegetables in a day - 5 servings of 80 grams each.
Do I Really Need it?
If you tick any of the boxes below, then our Energy Gel should always be handy.
Marathon runners

Cyclists

Cricketers

Footballers

Swimmers

Mountain climbers

Trekking enthusiasts

Trail runners

Endurance athletes

Triathlon athletes
How to use?
Tear open
Squeeze
Consume
What Our Customers Are Saying
Customer Reviews
17/02/2021
Samuel S.

India
Good Products,
Being a fitness trainer,i always search the best products for myself and my students. Finally my search came to an end after buying Azani Nutrition Products, bought 3 products Plant protein, Energy gel and Multivitamins Tablets ,using these since a month and recommended to all my students.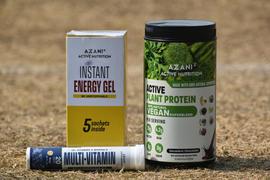 28/01/2021
Suman

India
Taste great
Taste great and really work on increasing your endurance
28/01/2021
Sukumar M.

India
Azani Energy gel improves performance in the gym
Azani Energy gel improves performance in the gym and other activities. It enabled me to improve my timing in both the marathon and regular races.
20/01/2021
Shailesh B.

India
One off the best stuff
Beautiful wow confident stuff
11/01/2021
Shubham K.

India
Value for Money
Wonderful products I love this gel..full of 5 sachets in it..its a good time for this as I was getting weak day by day..nd someone told me about this now I'm feeling better after using this